Crank Bait /
Fat Smasher 60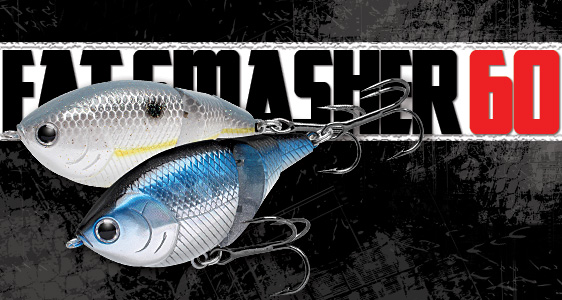 Length: 2-1/2'' (60mm)
Weight: 1/2oz (12.5g)
Class: Slow Sinking
Belly: #4
Hook Tail: #4
Max Diving Depth: 1 - 2ft
Line:
The Fat Smasher is a versatile crankbait/swimbait hybrid. The Fat Smasher can be fished similar to a shallow water crankbait by holding your rod tip low to the water. This will give it the side to side wobble action of a crankbait from a bait with a swimbait profile. Retrieve the Fat Smasher fast with your rod tip held high and it will create a smooth waking action on or near the surface that will lure bass from nearby structure. Use either retrieve and the Fat Smasher will produce violent strikes from bass on any body of water.
Color Image
SKU
Color Name
UPC
FSMSR60-052ABK
Aurora Black
885391420527
FSMSR60-074CROM
Chrome
885391420749
FSMSR60-148GBBG
Ghost Baby BG
885391421487
FSMSR60-172SXCRSD
Sexy Chartreuse Shad
885391421722
FSMSR60-183PTHFSD
Pearl Threadfin Shad
885391421838
FSMSR60-238GMN
Ghost Minnow
885391422385
FSMSR60-240SF
Sun Fish
885391422408
FSMSR60-250CRSD
Chartreuse Shad
885391422507
FSMSR60-254MSMJHRG
MS MJ Herrin
885391422545
FSMSR60-268PAY
Pearl Ayu
885391422682
FSMSR60-270MSAS
MS American Shad
885391422705
FSMSR60-280AGPC
Aurora Green Perch
885391422804
FSMSR60-895GBLGL
Ghost Blue Gill
885391428950