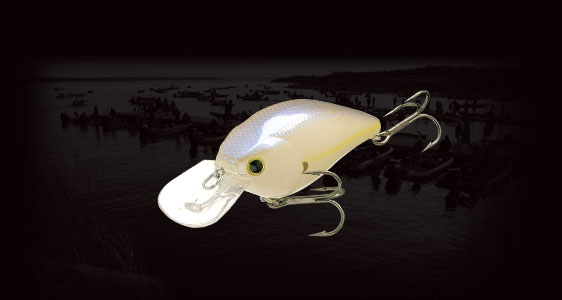 Length: 3" (75mm)
Weight: 3/4oz (23.0g)
Class: FLOATING
Belly: #2
Hook Tail: #2
Max Diving Depth: Surface
Line:
Lucky Craft's new Fat CB is a non-rattle bait with our "air floating concept". Thanks to optimized buoyancy made possible through the use of an intricate internal structure, this plastic crankbait behaves like a balsa wood lure and delivers outstanding obstacle deflection. The lip design and hook positions are specifically designed to come through the thickest of cover. Also, the weight of this lure is intentionally fixed for quick recovery, after the bait hits an object to come back to the center of the retrieve. In addition, the Fat CB is crafted larger, creating a wide wobble and rolling action to attract fish in a wide spread area.
Color Image
SKU
Color Name
UPC
FATCBMR-059GPB
Ghost Pro Blue
FATCBMR-061GOV
Ghost Violet
FATCBMR-064CRBK
Chartreuse Black
FATCBMR-070SPCR
Spring Craw
FATCBMR-071SUCR
Summer Craw
FATCBMR-072FCR
Fall Craw
FATCBMR-073WCR
Winter Craw
FATCBMR-077OTSD
Original Tennessee Shad
FATCBMR-078WAG
White and Gray
FATCBMR-079PLM
Pearl Lemon
FATCBMR-082FTG
Fire Tiger
FATCBMR-245NCTG
Mat Tiger
FATCBMR-250CRSD
Chartreuse Shad
FATCBMR-256AGO
Aurora Gold
FATCBMR-261TRS
Table Rock Shad
FATCBMR-263CRBL
Chartreuse Blue
FATCBMR-277ABR
Aurora Brown
FATCBMR-278NCPK
Mat Pumpkin
FATCBMR-279GOBR
Ghost Brown