EPG ~Exotic Predator Game~ /
POINTER 125XD
~3 Jointed Jerk~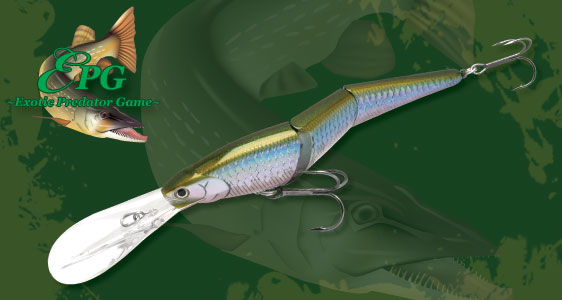 EPG POINTER 125XD
Length: 5" (125mm)
Weight: 3/4oz (21.5g)
Class:
Belly Hook: #2
Tail Hook: #3
Max Diving Depth: 9 - 10ft
Line:
The jointed Pointer 125 DD & XD baits are made to target fish taking cover in small pockets or shade.  Have you ever been in a situation where you know there is a fish, but you can't get it to bite?  Well, now you can. Throw the DD or XD Pointer 125 and it's jointed swimming action will be the answer you are looking for. The Pointer 125 DD & XD are also excellent for targeting Walleye/Zander during the summer months.

EPG POINTER 125XD
Color Image
SKU
Color Name
UPC
PT125XD-052ABK
Aurora Black
885391210524
PT125XD-077OTSD
Original Tennessee Shad
885391210777
PT125XD-172SXCRSD
Sexy Chartreuse Shad
885391211729
PT125XD-238GMN
Ghost Minnow
885391212382
PT125XD-250CRSD
Chartreuse Shad
885391212504
PT125XD-251NSK
Nishiki
885391212511
PT125XD-254MSMJHRG
MS MJ Herring - Aurora Wakasagi
885391212542
PT125XD-261TRS
Table Rock Shad
885391212610
PT125XD-268PAY
Pearl Ayu
885391212689
PT125XD-270MSAS
MS American Shad
885391212702
PT125XD-280AGPC
Aurora Green Perch
885391212801