EPG ~Exotic Predator Game~ /
LL POINTER 180
~2 Jointed Jerk~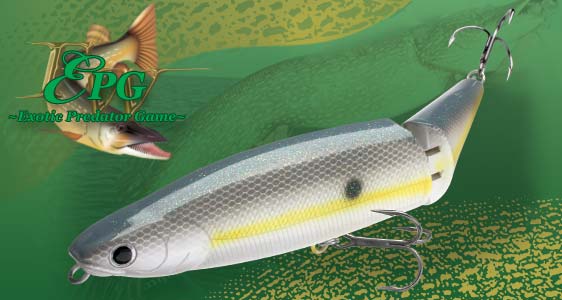 LL POINTER 180
Length: 7" (180mm)
Weight: 1-9/10oz (52.0g)
Belly Hook: #1/0
Tail Hook: #1
Max Diving Depth: 2-3 ft
Line:
The Pointer 180 is a jointed sinking jerkbait with excellent swimming action. This lure measures 7 inches long and is just less than 2 ounces. It combines a nice slender profile with excellent swimming action. It comes standard with sturdy trebles and split rings built to withstand the punishment from northern trophy sized fish. The line tie on the 180 is on the lure's nose but pointed downward at a 45 degree angle, which produces a slightly more erratic swimming action and a more nose down posture in the water.
The Lipless Pointer Series will initially be available in ten colors: MS MJ Herring, Laser Rainbow Trout, Parrot Shad, Cream Yellow Perch, Flash Blue Herring, Ghost Rainbow Trout, Ghost Northern Pike, Aurora Gold Northern Perch, Ghost Bluegill, Sexy Chartreuse Shad.
LL POINTER 180
Color Image
SKU
Color Name
UPC
LLPT180-086GAP
Green Apple
842406080862
LLPT180-097ONSD
Orange Night Shad
842406080978
LLPT180-130PVRN
Pearl Vairon
842406081302
LLPT180-131GVRN
Ghost Vairon
842406081319
LLPT180-134PGJN
Pearl Goujon
842406081340

LLPT180-150MSCRK
MS Crack
842406081500

LLPT180-151MSGMSD
MS Gunmetal Shad
842406081517

LLPT180-155CKBL
Crack Blue
842406081555

LLPT180-172SXCRSD
Sexy Chartreuse Shad
885391221728

LLPT180-238GMN
Ghost Minnow
842406082385

LLPT180-245NCTG
Mat Tiger
842406082453

LLPT180-247MSBK
MS Black
885391222473

LLPT180-254MSMJHRG
MS MJ Herring - MS MJ Aurora Wakasagi
885391222541

LLPT180-256AGO
Aurora Gold
842406082569

LLPT180-276LRBT
Laser Rainbow Trout
885391222763

LLPT180-342PRSD
Parrot Shad
885391223425

LLPT180-343CYPC
Cream Yellow Perch
885391223432

LLPT180-344FBHR
Flash BlueHerring
885391223449

LLPT180-800WEYE
Walleye
842406088004

LLPT180-803BRT
Brown Trout
842406088035
LLPT180-804SPSD
Spotted Shad - Konoshiro
842406088042

LLPT180-806TGPC
Tiger Perch
842406088066

LLPT180-808SHNR
Shiner
842406088080
LLPT180-815RMSK
Red Musky
842406088158

LLPT180-817GRBT
Ghost Rainbow Trout
885391228178
LLPT180-861OGTG
Orange Tiger
842406088615
LLPT180-862OGSK
Orange Sucker
842406088622
LLPT180-870SPOG
Spotted Orange
842406088707

LLPT180-881GNPK
Ghost Northern Pike
885391228819
LLPT180-882GOSK
Golden Sucker
842406088820
LLPT180-883OSK
Original Sucker
842406088837

LLPT180-884AGNPC
Aurora Gold Northern Perch
885391228840
LLPT180-890GOWEYE
Golden Walleye
842406088905
LLPT180-891NSK
Northern Sucker
842406088912
LLPT180-895GBLGL
Ghost BlueGill
885391228956