Skeet Reese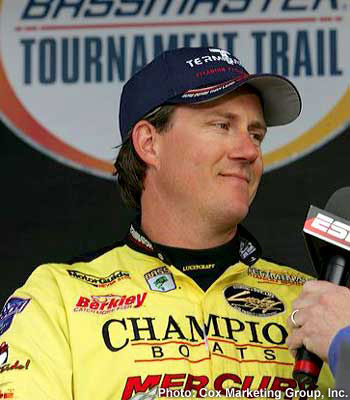 A frustrating first day on Table Rock set the stage for Lucky Craft Pro Staff Angler Skeet Reese, as he wound up ninth in the AOY battle. He did however, come back strong on day two, nabbing a five-fish limit weighing 12 pounds and 3 ounces to finish in the 70th spot.
"I caught a couple in the afternoon on a Lucky Crafty jerkbait and caught the last one about 15 minutes before weigh in," Reese said. "I'm happy I caught five today. After (Thursday) I knew I didn't have a shot at Angler of the Year, but I stayed in the top 10 - so I'm tickled to death.
"I had a good season," Reese said. "But I only made one cut and didn't win anything. I had a pretty decent points season and from a financial standpoint it was pretty good. I still didn't reach my goal, which is Angler of the Year. It's still a little disappointing, but I had a chance at it going into the final tournament of the year. As long as I can keep putting myself in these situations, hopefully sooner or later I will get it."
Reese discussed how he caught them on Friday.
"I picked up a jerkbait this afternoon and just started catching them," Reese explained. "I used a Pointer 100 in Chartreuse shad, throwing 10-pound Trilene Sensation and making as long of casts as I could out on points. I was able to catch two that way. They weren't big ones, but I was happy to get them. I was tickled to death to catch five today after yesterday.
"The fish were in typical patterns for this time of the year," Reese added. "They would pull up to an area and feed in lowlight conditions. It didn't matter what the water temperatures were. Once the wind started blowing, it shifted the bait around these peninsulas and that's how they were catching the fish.