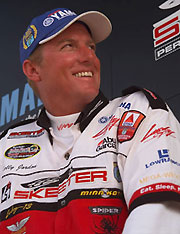 Photo: Lucky Craft

Guntersville has been both friend and foe to Kelly Jordon, but he can't wait to get started.
Week 8 - Kelly Jordon
Pressure On
Pressure Off 2/21/2005
Thanks to a win at the first FLW event of the season, Kelly Jordon kicked off his year with a bang. Any financial burdens the tours promised were instantly lifted, and hopes were high across the board. The pressure was gone, sort of.
Then came the back-to-back Bassmaster events. From a 1st-place finish at FLW to a couple of mediocre, yet still-in-the-money-performances, his all-important '05 and '06 Bassmaster Classic berths are on the line. He's not in jeopardy of losing the berths yet, but not safe and secure either. He wrapped up the second FLW event (Toho) with a solid finish and he's now in the runner-up spot for FLW Angler of theYear (AOY).
One Tourney at a Time
A mistake many young anglers make is to look past the present tournament and think about the next one. Jordon, on the other hand, would rather concentrate on each cast of each day of each tournament.
"If you look too far ahead, you can get thrown off your gameplan," he said. "Right now, I'm doing really well in the FLW. I'm in 2nd place for AOY. That's something I always shoot for. My BASS finishes have been lacking, although I've cashed a check in each one. I guess they're just not what I'd like to have right now.
"This is where the lack of focus can really hurt you. I need to make up ground in a hurry to get into the Classic. I know that, but I still need to focus on the present moment and approach each tournament one at a time. If I don't and I start to think, oh well, I'll make up the points later, my tournament will suffer."
In 2002, Jordon was the hero on Lake Guntersville when he won the event. In 2004, he took on the role of the zero and finished 101st. Even though there was a huge shift in finishes, he expects nothing but the best this time around atGuntersville this Thursday.
"I love Guntersville," he said. "Grass and big bass, let's get it on. I know I bombed out here last year with one of my worst tournaments, but I won in 2002 and know this lake is loaded with big bass. It's such an awesome fishery."
Pointer Time
Jerkbaits have been a popular lure in the pros' tackle bags for eons, but the Lucky Craft Pointer series is becoming legendary and a necessary tool for most anglers on tour.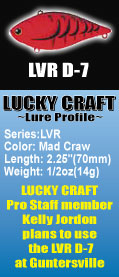 "I'd have to say the Lucky Craft Pointer 100is the benchmark for all jerkbaits at this time," Jordon said. "There are just some lures that plain work and the Pointer is one of them. It's the lure that was used to win at Guntersville last year. It'll be the first jerkbait I throw at Guntersville this week. It works awesome and nothing else comes close.
"The other jerkbait I want to try out here is the new Slender Pointer. I think this bait may be one of those you come to rely on."
Notable
> Jordon said he also plans to rip a Lucky Craft LVR D7 or D10 through the grass using 30-pound Spiderwire. "I think the lipless crankbaits in colors like Mad Craw, Aurora Brown, Ghost and Chartreuse Shad might catch plenty of bass at Guntersville this week."