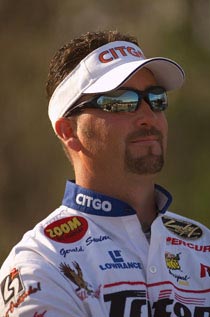 Week 5 - Swindle Got
What He Wanted 1/28/2005
Let it be known by all who read about reigning BASS Angler of the Year (AOY) Gerald Swindle - he's an intense competitor and would love to repeat as the BASS Angler of the Year. He's also a normal guy who puts his pants on one leg at a time, and gets frustrated about all the time he spends in traffic jams.
While some Team Lucky Craft members were already at the FLW opener on Okeechobee, Swindle was home prepping his gear. Then he headed out to Florida's Lake Toho - stop one on the 2005 Bassmaster Tour.
Toho is known as a big-bass factory, but after several bad practice days and only a few fish, Swindle didn't have a lot of hope as he headed into the opening day of competition.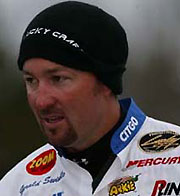 Photo: Lucky Craft
Gerald Swindle made the cut at Toho and has a great jump on another Angler of the Year title.
Long Road to Toho
Many BassFans might be tricked into thinking that the life of a tour pro is easy with lots of money, media attention and legions of fans. Sure, Swindle's famous in the bass world, but he still goes through the daily grind.
"On my way to Toho, I was stuck in one heck of a traffic jam in Atlanta," he said. "I was just sitting there really wanting to get to Florida and start practicing for this event. It's not all photo shoots and glamour. I still have to drive my rig to every event, just like the next guy."
Scrapes Cause Scramble
Toho was "scraped" recently. The idea is to dredge the bottom of the lake to increase vegetation and improve the habitat. The ultimate goal is to improve the long-term health of the fishery. But Swindle said he thinks the scraping has hurt Toho, at least temporarily.
"I think that the scraping really stinks. I know the folks who decided to do it know a lot more than I do about the management of the water, but it's not helping right now. They scraped Kissimmee a few years ago and it still sucks compared to what it was.
"This has sure made a lot of guys try to figure out where the big fish went. Nobody is going to set the water on fire this time."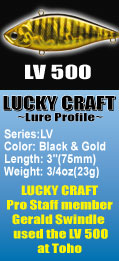 Frosty Florida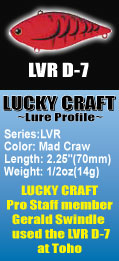 When the wind chill is 16 degrees, you can't be in Florida, right? Wrong. Those less than balmy temperatures sure put a damper on Swindle's practice days. A massive cold front and Minnesota-like temps prevented him from dialing in the fish.
"I couldn't get anything going at all during practice. With a 16-degree wind chill on Monday and continued cold, I had nothing going. Maybe a few bites, but no 5-bite days for me." He used a Lucky Craft LVR 7 in Mad Craw and an LV 500 in Black and Gold (both lipless crankbaits) for his initial search on Toho.
"I started practice using the Lucky Craft lipless crankbaits to try and locate fish," he said. "We caught a few with them over the hydrilla. Our first bites came on these lures. They're a great tool for finding active fish. These baits led us to fishing the mats."
AOY in Sight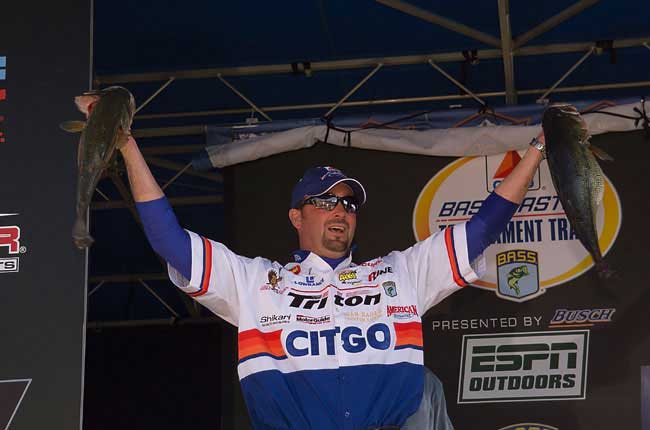 After day 1 of the Toho Bassmaster, Swindle sat in the 17th spot. He said then that he needed a Top 20 finish to make another run at the AOY title.
"I think I need to get about 12 pounds on day 2 to make the cut. If I do that, I'm in good shape to try for AOY again. It can be done. I just have to get my five fish into the boat. As long as I stay in the Top 20, I'm still in it."
He did better than that. He weighed 11-02 on day 2, made the Top 12 cut and will fish tomorrow.
"I fished a spinnerbait and a Lucky Craft LVR7," he said, "I had six bites, caught five and they bit both baits. I fished in the canals and there was no rhyme or reason to my fishing. I just threw and threw."