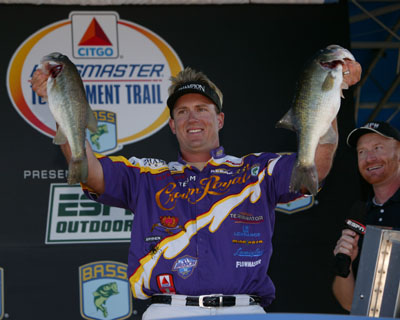 Inspector Gadget 1/21/2005
Remember the Inspector Gadget cartoons? They were about a detective who was part machine and full of odd, but functional gadgets. Well, Skeet Reese looks like he may end up as the Inspector Gadget of the bass world. He'll help host a new show on ESPN called Bass Tech, where he'll feature new electronic gizmos and gadgets that may be able to help you in your bass fishing.
He recently attended the Consumer Electronics Show (CES) in Las Vegas, where he made an appearance for the Bass Tech show. Along with fellow pro Stephen Browning, he appeared on the ESPN center stage and promoted the new High Definition television that ESPN will introduce. He also talked about the sport of fishing and performed casting demonstrations.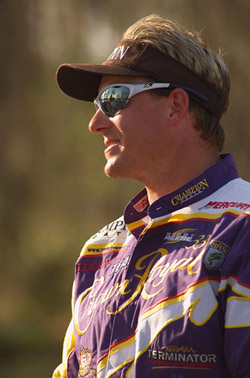 Gadgets Galore
While he wandered around CES, Reese discovered loads of new toys that'll be available to anglers this season.
"At the CES show, Stephen Browning and I wandered around searching for new gizmos and gadgets for the Bass Tech show on ESPN," he said. "We found some pretty cool stuff Esatellites, flat-screen TVs, PlayStation gear and a really cool back-up camera that we'll have on a truck to demonstrate this year.
"Some of the gear is really practical, and some if it you won't believe. People aren't going to believe what we're putting on our boats and trucks."
Home for a Day
After he checked out the latest electronic equipment at CES, Reese headed to San Francisco for a week to appear at an outdoor show. He then headed home for 1 day, only to leave again. He's been on the road, en route from California to Florida, since Tuesday morning.
"I did a Fred Hall show in San Francisco," he said. "I was there for 4 or 5 days, making appearances and giving seminars. Then I headed home. I got 1 day at home and then I left for Toho. I left Tuesday morning at like 3:30 or 4:00 a.m., and have had my butt in this truck for the last 4 days.
"I just want to get my new rig cleaned Eit's a dirty son-of-a-gun."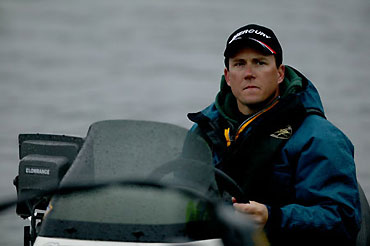 Skeet Reese said BassFans won't believe what'll be in his boat this year.
Toho Approaches
Reese said his goal at the Toho Bassmaster is a Top 20 finish, since a good start can make all the difference for an Angler of the Year (AOY) run.
"My goal is to catch 12 to 15 pounds per day and make the Top 20. I always prefer to make the Top 10, but I haven't done real well on Toho.
"If the weather warms up, we'll catch more fish, but if another cold front comes in, it'll be tough. I don't think there'll be a lot of bed-fish caught this year, but you never know.
"I'm not worried. I'll fish whatever I can and catch the fish I can catch. If I can get a good start to the season and be in the (AOY) race from the start, I'll be stoked. Then it's on to Harris (Chain) where I feel I can catch fish pretty well."
He won the Harris Chain Bassmaster event in 2003.