Behind The Curtain 1/14/2005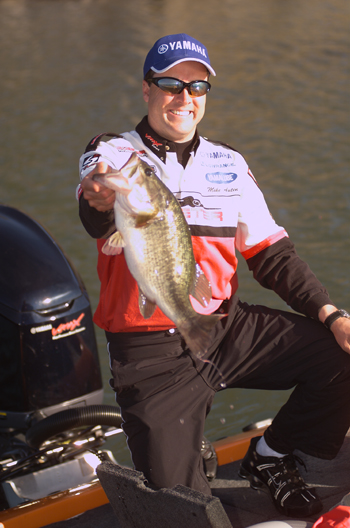 Like the Wizard of Oz in the classic film of the same name, Mike Auten spends much of his time behind the curtain. He's never won a major event, but is a prolific angler, producer and creative talent. In fact, some say he's one the most powerful anglers in the industry when it comes to promotion. He promotes both the anglers and his television shows, all while competing on the high-pressure Bassmaster Tour.
This week, for example, he's covered thousands of miles in the effort to produce his television programs, Classic Patterns and Angler on Tour, and satisfy sponsor requirements. He's been to Florida, North Carolina, Missouri and other states via truck or plane in the last few days. He's truly the man behind the curtain ・the Wizard of Bass ・yet few people know it.
Too Much Gambling
When Skeeter became an FLW sponsor, a number of its pro staff immediately committed themselves to fishing the FLW Tour. Auten, however, opted out of the FLW Tour this season and decided to fish the Bassmaster Tour exclusively. He's sponsored by Skeeter, but feels he needs to keep focused on the business at hand.
"I'm not competing in FLW because I just have too much going on," he said. "It's not due to lack of desire. I'm already gambling my money in one casino ・I can't afford to have some in another, too.
"Just this week, I worked with Fish Fishburne in Florida and Rick Clunn in Missouri. I'll also be working with Tim Horton. I've covered thousands of miles this week alone. I'm extremely busy with television productions."
Workaholic Wizard
Known for his never-ending work schedule, Auten often finds himself in mid-production of a television program while a Tour event is underway. His company, Auten Interactive, produces Angler on Tour featuring Joe Thomas. The show covers Thomas during the official practice and tournament, so Auten has to practice himself, and cover Thomas' practice at the same time.
"I've grown accustomed to it," Auten said. "It no longer bothers me. I used to get stressed out getting calls on the road regarding the shows, but I have more help in the office now, so my stress is reduced. The one thing that has not changed is that my mind never quits. I'm constantly thinking, creating ・trying to plan ways to promote myself and the other anglers I work with."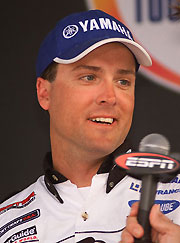 Photo: Lucky Craft
Mike Auten practices at the same time he produces Classic Patterns and Angler on Tour.
Brand Maker
Auten said one of his goals is to help other anglers understand the need to create an image of themselves. It's what the marketing world calls branding.
"Each guy we work with is deserving of more in this business," he said. "I'm helping some of them with television productions and through our Classic Patterns show to help bring out who they really are ・to help them in the branding process.
"Anglers will often become absorbed by some large sponsor and lose their individuality. I recall at last year's Classic, hearing someone say it looks like Yamaha is going to win again. I mean, you need sponsors and I work hard for them, but we should never lose our individuality."
No More Fear
Auten looked as if he would finally break through with a BASS victory last fall. He lead the Ohio, Cumberland and Tennessee Open, but fell short. This season, since his stress levels are reduced, he plans to fish more aggressively and take a "fearless" approach.
"I'm finally comfortable where I am in this industry," he said. "I've really been fishing too conservatively over the last years. This year I will take more risks. I'm going into it with no preconceived notions. I plan on relaxing as much as possible. I will fish with more of my intuition and not let fear influence my decisions."