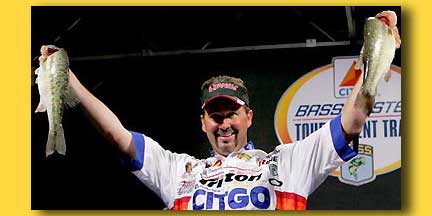 Photo: Lucky Craft
Gerald Swindle finished ounces out of the cut at both Elite 50 events.
Week 21 ・Gerald Swindle
The Swindle Tour 5/23/2005

Gerald Swindle is one of the busiest pro anglers in the industry. After an off-year in which he finished 53rd in the Bassmaster points, you'd think he might slow down a bit. Not G-Money. He had a solid finish last week (15th) at the Dardanelle Bassmaster Elite 50. He leaves for Tulsa for a few days, and then it's off to Texas to prep for the next E50 event.
After that, he heads straight to Little Rock, Ark. for a little TV, then it's home to pick up wife Le Ann, then straight north to the land of dairy for yet another E50 event.
His lifestyle may not be as glamorous as that of a rock star, but the man sure puts on the miles throughout the year.
Three Week Trip
Swindle will be on the road from now until after the Wissota E50 ends on June 18.
"I've got to confess, I'm a bit tired already," he said. "I get on a plane today to leave for Tulsa. There's a big Quantum meeting there and they want me to attend. I'll get back on Thursday and head out right away for Lake Lewisville in Texas.
"From then, I'll be gone to Little Rock to shoot the Bass Tech show with Skeet Reese, and then it's home to get my wife and up to Wisconsin. It's going to be a long 3 weeks."
Dastardly Dardanelle
Swindle's already in the 2005 Bassmaster Classic, thanks to his 2004 Angler of the Year title. But he still needs to qualify for the 2006 Classic. He can do that if he finishes in the Top 10 in the E50 points.
He took a step closer to that goal at Dardanelle with a 15th-place finish, which moved him to 13th in the points. But he feels he needs to do more.
"I just didn't fish good enough," he said. "I wasn't on many in practice. I caught three keepers. That's all. On the first day of the tournament, I must have caught 40 fish, but only three were keepers. On the second day, I caught fewer fish, but landed four keepers.
"I'm just a bit short of the cut at each E50 tournament so far," he said. "I missed at Smith by 3 ounces and at Dardanelle by 6 ounces. It's like I hit the ball to the top of the outfield fence, but not out of the park.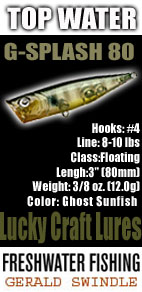 His primary lure at Dardanelle was a Zoom Super Hog, which he flipped along the grass. But his Lucky Craft G-Splash 80 paid off on Day 2.
"I really tried to get them to go on a Lucky Craft big G-Splash in practice," he said. "The Zoom Super Hog was more productive. Then Skeet (Reese) told me he caught a few on the big G-Splash. On the second day, I caught my bigger 3-pounder on the big G-Splash. That fish moved me up in the points."
Lewisville Looms
While Swindle's known for his "bring it on" mentality, he's headed to the next E50 stop, Lake Lewisville, unsure of what to expect.
"The only thing I know about Lewisville is that Kelly Jordon told me it has one of the highest rates of watercraft-related fatalities in the country," he said. "Well all right, here we go. We're going to go there and practice over the Memorial Day weekend. It's going to be fun."
Notable
> Swindle flipped with new finesse at Lake Dardanelle. "The folks at Quantum have worked out a 7'4" finesse flipping rod for me," he said. "It has plenty of strength, but a light enough tip to pitch the baits with lighter line, like when I used 15-pound P-line at Dardanelle. I used a regular flipping stick in the past with lighter line, but I'd break off quite a bit. This rod with the softer tip will prevent more break-offs."