Gerald Swindle the BDS baits are tough: "You can slap 'em, beat 'em and mistreat 'em and the finish stays on."
Big Daddy Strike:
Skinny Summer Cranking 5/9/2005
While many anglers have their shallow crankbait rods stowed for the season, a handful of Lucky Craft pros say the shallow runners are still a viable option from late spring throughout the summer months.
Gerald Swindle, Mike Auten and Skeet Reese know that the Lucky Craft Fat CB models are deadly tools in a variety of cover situations and on various bodies of water throughout spring and summer.
Swindle Stays Shallow
No matter the time of the year or the body of water, Gerald Swindle always has a Lucky Craft Fat CB BDS 3 tied on. Its wide wobble and durability make it a winner for the former Bassmaster Angler of the Year.
"Man, I always have a BDS 3 tied on at least one rod," he said. "From January to the end of the season, I always have one tied on. I'm a BDS chunkin' fool.
"It's got that great wide wobble that really draws strikes from bigger fish," he noted. "It's so versatile. You can fish it with 10-pound line for a more finesse approach, or you can fish it on 20-pound line for a real power approach. Either way, it'll catch fish.
"The lure is probably the most durable one you can own. You can slap 'em, beat 'em and mistreat 'em and the finish stays on. You won't break your bill off like you can with a wood bait or other plastic baits ・you know, the ones where you end up with a bone-colored crankbait. Heck, if I wanted that color, I'd buy it."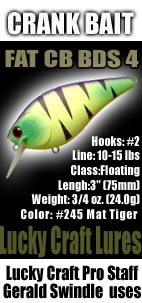 Swindle feels there are always a few fish shallow, ready to swallow a BDS 3 or 4.
"In particular, the BDS 3 is not a seasonal bait," he said. "Whether it's cold or hot, there are always fish in the shallows and this lure can get them out of there.
"One of my favorite lakes to use them is Logan Martin (Ala.). This lure is the best day in and day out to get the job done. In the late spring, I'll fish the shallow clay points with stumps. Later in the summer, I'll fish it on the blowdowns.
"If you want to fish a crankbait in the real thick stuff, toss a BDS 4 with 20-pound line," he added. "Fish it through the shallow grass. You can work it through the stuff almost like a big spinnerbait. It catches some real big fish."
he prefers two colors when for his BDS 3s and 4s in the spring and summer: mat tiger and chartreuse shad.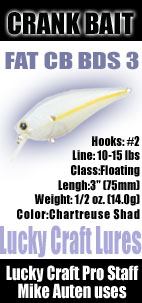 Auten Prefers Current
Mike Auten tosses his BDS 3 at a variety of cover elements in the late spring, but once the summer months come, he looks for current.
"When it's late spring, I'll look for fish in transition areas," he said. "I'll work a BDS 3 over the tops of milfoil and hydrilla since it's usually not up to the surface yet. The BDS 3 is a terrific bait for that situation. Points are also a good bet to find late-spring fish.
"Once the fish transition into their summer locations, the shallow crankbait bite where I live near Kentucky Lake can become pretty tough," he added. "Many of the fish move into deep water. To find fish, you need to move to the upper areas of reservoirs into the rivers. The current helps keep the fish shallow and you can target them with a BDS 3. You'll want to fish logjams and other shallow cover."
Auten keeps his lure color selection to a minimum.
"I really try to keep my color selection simple," he said. "For darker water, I use the chartreuse with black back, and for clearer water, I like the chartreuse shad. I have my core colors and I stick with them."
Reese Ties One On
Skeet Reese almost always has a BDS model tied on one of his rods at a tournament.
"The BDS models are excellent to use from pre-spawn to late fall," he said. "They're especially good over rocks and wood or some of the heartier grasses. I generally have one tied on most of the year. I use the BDS 3 and 4 in the summer and fall and the smaller versions earlier on."
Skeet Reese said the baits were somewhat of a secret, but word is getting out.

He also digs the durability the BDS cranks offer.
"You can beat the ever-living snot out of them and they still work," he said. "Even though they cost more than many baits, you can go through half a dozen or more lures made by other companies before you go through one Lucky Craft. The quality is phenomenal. I think they're the most consistent baits produced by any company."
He also noted that this secret is now out in the open.
"The BDS series was probably one of the biggest sleeper baits on the market," he said. "From a tournament standpoint, there was a lot of money made by guys using these baits. Of course, with the introduction of the (RC) 1.5 and so many anglers using them, they've really become popular.
"They're the best shallow crankbait to hit the market in a longtime. I think they surpass anything out there."
Notable
> Skeet Reese feels the BDS may be a factor at the upcoming Dardanelle E50. "The E50 event at Dardanelle may be a good spot to catch fish with a Lucky Craft BDS crank," he said. "If there are any fish shallow, this bait will catch some."
> He also said Lucky Craft will introduce a BDS 1 and 2 sometime in the near future.
> Members of Team Lucky Craft call the bait the Big Daddy Strike (BDS), but it's sold under the name RC (for Rick Clunn) exclusively through Bass Pro Shops.