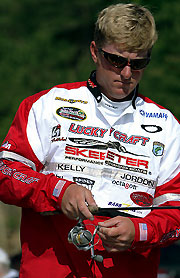 Photo: Doug Cox
Kelly Jordon snapped out of his Bassmaster slump at Smith, but said the course format was a little frustrating.
Week 17-Kelly Jordon
Jordon Rejuvenated 4/25/2005

Kelly Jordon likes Smith Lake. He really likes it. Thanks to fishable weather conditions, he finally got in the zone and enjoyed a Top 10 finish at a BASS event in this case, the Smith Lake Elite 50.
With a 3rd-place finish in the first of four E50s, he's now in position to qualify for the 2005 and 2006 Bassmaster Classics. If he can maintain an overall rank of 10th or higher in the E50 points, he'll be in both.
This spring, he endured his worst season ever as a Bassmaster pro. It was his first year (out of five) in which he failed to qualify for the Classic through the Tour. He's now energized, focused and ready to fish with increased intensity to ensure he makes it to both Classics.
Jordon Fished Strong
Jordon suffered a Bassmaster season full of poor finishes, wintry weather and uncooperative fish. At Smith Lake, he finally got over fish that bit throughout the event.
"It felt just awesome to be able to go out and catch them at Smith Lake," he said. "I mean, I could catch them eight different ways if I wanted to. I focused on three approaches. I sight-fished with a Baby Fork Craw, cast a trick worm at cover, and caught them suspended with a Lucky Craft Slender Pointer 97. They really smoked that Slender Pointer early and later in the day.
"I fished real strong in pre-fish and throughout the tournament," he noted. "It felt great not being in thermal underwear for once. Of course, the last day of the tournament got nasty, but all in all I could go out and fish hard. I put my head down and got things done."
On his regular-season performance: "I just came off my worst season ever on the Bassmaster Tour. After five tough tournaments in row, this was great. Before, I'd fish and have great practices, then once the tournament started, I couldn't get on the fish. This tournament, it all worked out."
KJ Takes Out KVD
On day 3 at Smith Lake, the 12 anglers who made the cut got to pick from six holes on a pre-determined course. Since Kevin VanDam was in the lead, he picked first. Jordon started in the same area and could see KVD throughout Day 3.
"It was really cool that I got to fish toe-to-toe with Kevin VanDam," Jordon said. "I took him, man -I beat him that day. I'll have to savor that moment for a long time. He's my hero and I beat him."
For the record, Jordon weighed 11-09 on Day 3 compared to KVD's 11-00.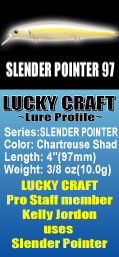 Speed Course
Jordon isn't sure if he likes the E50 course format, but he does believe it's the fastest day on the water one can experience.
"Those had to be the fastest days I've ever fished," he said. "I mean, you get to the hole and you have 60 minutes to fish. You've really got to look at your watch. It can be tough - time flies by.
"On the first cut day, my last cast with my (Lucky Craft) Slender Pointer had a fish smoke the bait halfway to the boat on hole 2," he said. "I got it in, but there were at least five more fish with it.
"I couldn't fish for them, because I had to leave. It's tough when you know there are fish there and you need to leave. I just sat on the bottom of my boat and thought a bit before I spoke to the cameraman.
"It frustrates me to fish that way," he noted. "It was a pure power approach for me-it's totally intense."
Notable
> What does Jordon do when he has a weekend off from competition? He chases saltwater fish. "If the weather cooperates, I may go and fish for red snapper or grouper offshore," he said. "If the waves are less than 3-footers, I'll head out and hook some big fish. I'll run about 60 miles out and catch the big ones."