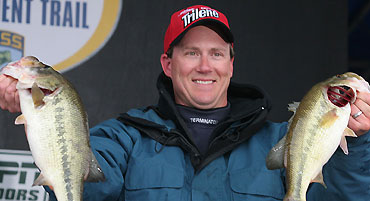 Photo: Bassmaster.com
Skeet says several Lucky Craft baits helped him do well this Bassmaster Tour season.
Week 15 -Skeet Reese

Pressure's Off For Reese 4/12/2005
When the 2005 Bassmaster Tour season opened, there was plenty of pressure on Skeet Reese and the rest of the pros. That was because of the changes announced for 2006, including moving the Bassmaster Classic to February. So anglers had the opportunity to qualify for two Classics in one season a change that provided loads of opportunity for all, but plenty of pressure too.
Fortunately for Reese, he finished 9th in the Bassmaster points, which qualified him for both Classics. The pressure is off, and it's time for him to relax and try to cash a big check at one of the Elite 50s.
But even though his regular season is over, he still has plenty of sponsor responsibility to keep him busy and on the road. The last Bassmaster Tour event of the season ended over a week ago, but he just arrived home in California on Sunday April 10.
500-Boat Tourney and Tackle Chaos
While on a promotional stop last week at Mark's Outdoors in Birmingham, Ala., Reese was paired with a raffle winner and fished a tournament with 500 boats.
"It was wild," Reese said. "We were on Lay Lake, which is a little small for such a huge event. It was pretty chaotic, but it worked out in the end.
"I fished with a lady named Darlene. She doesn't fish much, but entered her name in a raffle while she picked up tackle for her husband. She won the raffle and got to fish with me. We won the mixed couple division and finished 41st overall. Our finish wasn't too bad since I've never fished there before, and I was told about the event only a couple of weeks earlier."
While at the event Reese, fellow Lucky Craft pro Gerald Swindle and other pros dispersed tackle to a crowd of thousands.
"After the weigh-in was over we started to toss tackle to the crowd," he said. "There were eleven pros in total and we tossed out around $85,000 worth of tackle. There were a couple thousand people there. We fired out lures, reels, all sorts of stuff. It was full-on insane chaos, absolutely chaotic."
After an E50 Win
Since Reese has already qualified for the next two Classics, he feels a sense of relief instead of tension prior to the E50s.
"For me, there's no pressure to perform," he said. "I've only booked my hotel for the first one. Normally I book all of my rooms in advance, but I'm relaxed now and will book them as I arrive.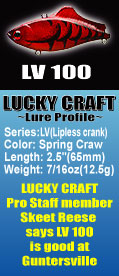 "My family will be with me for the first event," he said. "It should be fun. I'm in a great position right now and plan to swing for the fences when I can. My goal is to win one out of the four E50s and take home a fat check."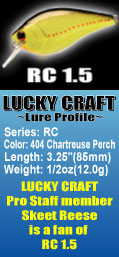 Likes the RC 1.5
Like so many pros, Reese is a fan of the Lucky Craft BDS 1.5, aka the
RC 1.5.
"I'd say that the BDS 1.5 or the RC 1.5 has been a great lure this season," he said. "That was the one lure which really preformed well at the Lake Norman event. This year, I've also had good success with the LV series 100 and 500 at Guntersville, and the Pointer 100 at Table Rock. The Pointer 100 helped me go from zero to a paycheck at Table Rock."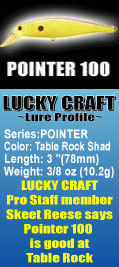 Notable
> Between the Table Rock tournament and the Mark's Outdoors tournament, Reese also stopped by to visit JM Associates in Little Rock, Ark. to go over upcoming episodes of Bass Tech. "I think the show will really provide some good information for a lot of people this year," he said, "like tech ideas for your boat, truck, whatever. It's gonna be cool."