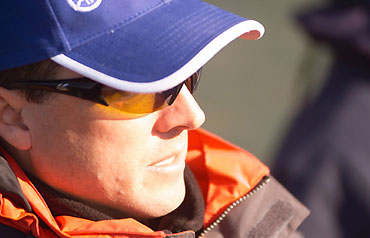 Photo: Mike Auten
Mike Auten's cell phone never stops ringing, even in practice, and it's usually a critical issue tied to his Classic Patterns TV show or DVD series.

Week 13 - Mike Auten
The Life Of Auten 3/28/2005
Many casual fans might think the life of a tour pro is pretty easy -get paid the big bucks to drive around the country and chase little green or brown fish. No worries, just fun - it's like a fantasy life, right? Well, the reality is most, if not all, of the anglers on tour aren't "set" with fat cash contracts. Most anglers, like Team Lucky Craft's Mike Auten, have other responsibilities that can impact their performance.
The final Bassmaster Tour event of the season begins this Thursday at Table Rock Lake, Mo. and he's 109th in the Bassmaster points. It's not where he wants to be, of course, and he's below the cutoff (100th) where he'll automatically requalify for next year's Tour.
Most of his peers have to balance a heavy promotional schedule with their competitive demands. Auten, however, has to do even more. Thanks to a strenuous TV and DVD production schedule smack in the middle of the tour season, he's under tremendous pressure to perform in both the TV and tournament spheres.
Preoccupied with Production
Burdened with a full plate of business and tournament obligations, Auten's focus is still on competition, and he aspires to achieve a solid performance at each tournament.
"With all of my outside concerns, I'm definitely preoccupied when I should be more focused on the tournaments," he said. "This year during the tour season, my production company has produced 13 Classic Patterns TV shows and 14 DVDs. That's all been done in the last 2 or 3 months. Man, that's a lot of hard work."
A memorable moment of distraction occurred while he practiced on Lake Norman prior to the start of that Bassmaster event.
"I get all sorts of distractions while we're in production for the TV show and DVDs," he said. "I'll get calls while I'm at practice about various things like logistics, deliveries and everything else. Since many of our DVDs are educational, and I'm the person primarily responsible for their development and content, I have to troubleshoot -even when I'm on the water.
"We have a small crew in the office, and many people have to do many tasks," he said. "I've had so many nightmares this season while out on the water, but one at Lake Norman was a good one. We have to edit and transfer a lot of material in the office, so we needed to rework some software.
"So I get a call while I'm on the water and I have to talk people through how to set the system up, or else they won't be able to transfer the product and get it delivered and that would be a big problem. It's a frantic emergency, but it ended up fine.
"I guess I have to thank God for cell phones, but they sure can be a distraction, too. My phone is always in use when I should be focused on fishing. Even with all of this pressure though, I still expect myself to perform better than I've been."
Poor Performance Bothers Him
"I know I've not performed well this year," he said. "As a competitor, it bothers me to be ranked so low in the points. I'm not sure if I'll qualify for the 2006 tour season. I'll just have to do the best I can and deal with the outcome. I've got one more event to go and perform well."
He feels Table Rock will play out to be a hardbait bite, which suits him.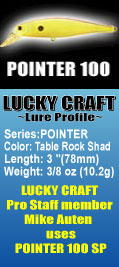 "I know that Table Rock should be a great place to use some of the Lucky Craft crankbaits and jerkbaits,"he said. "I've checked out a variety of areas to find the right water and conditions to catch them. I especially think thePointer will be productive, if the jerkbait bite is on.
"Table Rock really suits the suite of baits that Lucky Craft produces."
Notable
> Auten's best finish this season was at the Harris Chain in Florida, where he finished 59th.
> His above concerns about qualifying for next year seem premature. According to BASS, he will be invited to fish the 2006 Bassmaster Tour. A BASS official told BassFan, "Mike will be eligible to fish in 2006. All of the qualifications for the 2006 tour season have not been finalized yet. That should be done this week, but Mike can fish if he wants to."