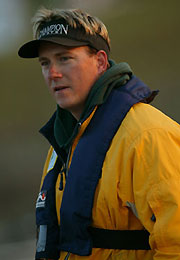 Photo: Lucky Craft
Skeet Reese said America is all about reality right now.
Week1 - Skeet Reese
Reese And His
Rig Are Ready 1/1/2005
(Editor's note: Welcome to On Tour With Lucky Craft, an in-depth look at life on and off the tours. Some weeks a member of Team Lucky Craft will tell BassFans the real, uncensored deal about life as a pro fisherman. Other weeks expect fishing and product tips, tour and event overviews, and just about anything else Team Lucky Craft can devise. This inaugural column features Skeet Reese as he looks ahead to the Bassmaster Tour.)
The Bassmaster Tour begins in a few short weeks, but Skeet Reese - who's currently ranked 3rd in the world - said he isn't stressed. He hasn't picked apart the schedule, like some anglers do. Instead, he likes to just show up and fish. "It makes no difference where we go," he said. "Every lake we go to, I know I have a chance to catch them."
Lake Toho, Fla. is first up on the Bassmaster schedule this year. "Obviously, Toho hasn't been highest on my list, so I look at it like going to a new lake," he said. "I hope to catch them and I think a decent finish is highly possible."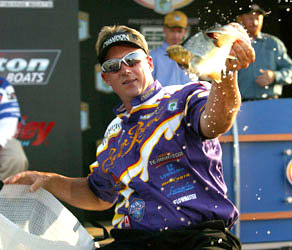 As it Comes
The next event is at the Harris Chain, also in Florida, and he won there in 2003. But afterward the Tour swings north, into some colder waters and what should be pre-spawn conditions. "There's some lakes I've never been to before," he said. So I have no preconceived notions. For me, that doesn't stress me out. A lot of guys analyze each lake and try to get an idea of how it will fish - get their tackle all prepared.
"I don't function that way. Basically, I have all my gear with me anyway, so I just go with what the given conditions dictate. If it's a flipping bite, great. If it's a crankbait bite, so be it. You never know what's in store when you get on the Tour."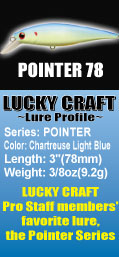 This shoot-from-the-hip style is behind a lot of his success. "The whole key to fishing is just showing up and dealing with the conditions you have," he said. "You have to take the information that's there that day, then process it and put it into use on the water."
Hardbait Bite
If last year was any indication, there could be a strong jerkbait and lipless crankbait bites on the Tour. "I feel we'll have a few lakes where jerkbaits will be a factor," he said. Table Rock (Mo.) will be a jerkbait bite for sure, and Guntersville will probably be a jerkbait and lipless-crank bite. Obviously, after everybody watched George (Cochran) win there last year on a (Lucky Craft) Pointer Minnow, there will be a lot of guys throwing jerkbaits this year.
"The bite he was on was frustrating, because that's our Clear Lake (Calif.) bite. For me to not get on that bite was really frustrating. But this year, if that water temp on Guntersville is 55 or lower, it'll be a jerkbait deal. If it gets warmer, it'll probably be more of an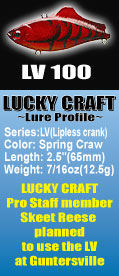 LV (lipless crankbait) bite - either the 100 or 500."
Did he have any thoughts on the fourth stop - Clarks Hill, Ga.? "I don't have a clue what it's like," he said. "I know zero about it."
Slender for Smallies
Reese throws what it takes to win, and he obviously throws a lot of Lucky Craft hardbaits. He said there's one bait, though, that he's particularly excited about for this Tour season. "I think the bait I'm most excited about - and it will definitely come into play if we get around smallmouths - is new
Slender Pointer jerkbait. I think it'll be the best smallmouth jerkbait ever made.
"It has the Lucky Craft quality, but a little more of an erratic action - plus it's a three-hook bait. Anybody I talked to who used it for smallies has already told me it's unbelievable. It's also great for largemouths and spots."
Reese's Rig
BassFans can follow Reese on the Tour this year through On Tour With Lucky Craft, but they might also see him driving down the road. He will be hard to miss. "I did a custom wrap on my truck," he said. "It turned out incredible looking. I wanted to do something different - separate myself from the rest of the crew and take everything up a notch. It's basically a Skeet Reese-edition Excursion - all yellow and black."
Two of the Best
Reese said he's excited to participate in the On Tour With Lucky Craft column because it's the chance to do something different. I think being able to feed more information to the audience - the fans - as far as more reality stuff is what excited me the most. America is all about reality right now, so the more reality-type information the fans can get, I think they'll appreciate it more.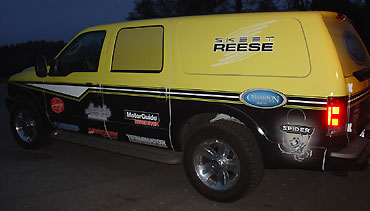 Photo: Skeet Reese
Reese said his custom-wrapped rig takes it up a notch.
"They've heard a lot about tactics, and gossip on the Tour, but as far as getting our thought process about how things are going, I think they'll like hearing it a heck of a lot more now. I'm glad to see Lucky Craft has come onboard with BassFan.
Right now, BassFan's the number-one website to go to for info, and Lucky Craft is number-one lure manufacturer - they make the best hardbait in the industry. So it's two number ones working together."