Skeet Reese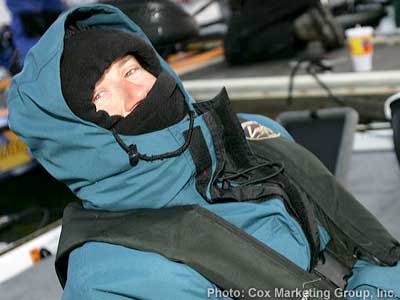 A common saying is that 'opposites attract.' Not that Stone and Reese are opposites, but they had opposite days on Lake Norman that have them together in the AOY race. Skeet Reese had a huge first day on the water, reeling in 18 pounds and 2 ounces of bass. But day two was more of a challenge as Reese boated only 4 pounds and 2 ounces and rounded out the weekend in 15th spot.
"I had a great day (Thursday)," Reese said. "To catch 18 pounds out here is phenomenal. Every single fish I caught (Thursday) was on the Lucky Craft Fat CB 1.5. But when the sun came out (Friday) morning, I knew it was going to be a tough bite and knew I was in big trouble. But I really thought if I grinded it out, I was going to catch five - even if they were little ones. I just never found the bites today. The fish really wanted to move up on the banks.
"(On Friday), I knew the worm bite was going to be more prolific," Reese added. "It's not my style of fishing, but I was able to work my way through it. I wanted to swing for the fences because I wanted a 12- to 15-pound stringer again. Even though they were shallow this week, they weren't reacting to the bigger baits."
But Reese is right there for AOY honors, tied for fourth only 29 points behind Stone.
"I'm tickled to death because I had a pretty good tournament," Reese said. "After my week on Lake Norman, I'm pleased that I stayed in the hunt for Angler of the Year. We'll see where the cards fall. I've really tried to fish my strengths this year. I'm not going to fish Table Rock conservatively. As long as I think the fish will be shallow, I have a shot at it. I just want to keep myself in position at this last event."