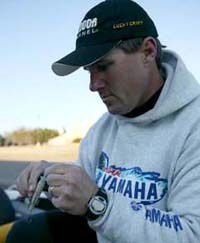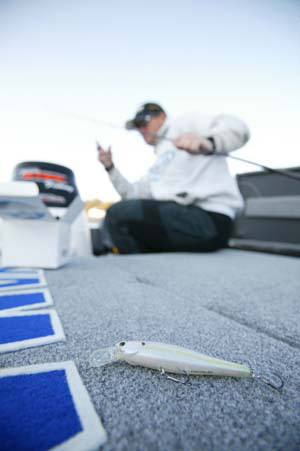 With forecasts calling for severe weather and a 16-inch minimum size limit for the Citgo Bass Master Tour event on Lewis Smith Lake, all the anglers fishing the event knew going in that the conditions were going to be tough. Lucky Craft Pro team Member Joe Thomas was one of 62 anglers that failed to weigh in a keeper bass on day one of the tournament. At the end of day two, however, Thomas was in thirteenth place and missed making the Top 12 cut by only ten ounces.
During the three-day practice period Thomas fished a Lucky Craft Pointer Minnow 100 in Chartreuse Shad around bluff banks on the main lake.
The Pointer 100 was fished on ten-pound test fluorocarbon line. "I used fluorocarbon line because it sinks, and it allowed me to get my Pointer a little bit deeper," said Thomas. "I didn't get a lot of bites, but about every third fish was a keeper." One of the keys to Thomas's pattern was to pause the bait for five to six seconds in between jerks. "All the fish I caught hit the bait when it was sitting still," said Thomas.
Day one of the tournament brought with it heavy cloud cover. Thomas caught six bass on the Pointer 100, but all were short of the 16-inch size limit. "I really think that the heavy overcast prevented the fish from seeing the flash of my bait," said Thomas. He ended up being one of 62 anglers that had a hard time dealing with the ever-changing conditions, and now it was starting to rain.
By the beginning of day two, Smith Lake had received four inches of warm rain. Thomas decided to make a major adjustment to his strategy.
Instead of fishing the Pointer, he switched to a 3/8 oz. flipping jig and a pork frog and started fishing in the backs of pockets that had clear runoff water flowing into them. Joe's technique involved making long pitches into the flowing water and swimming the jig back to the boat. "It was really a run and gun technique. You had to fish a bunch of pockets to find a couple that were holding fish," said Thomas.
At the end of the second day Joe ended up catching seven fish, five of which were above the 16-inch minimum size limit. Thomas's fish weighed12 pounds even. This weight moved him form 96th place on day one to 13th place overall, just ten ounces from making the Top 12 cut.
"It felt great to make such a comeback," said Thomas, who credits his success to changing his technique to match the conditions.